This is a live document that is updated as our policies change. Please review this page before booking an appointment!
By booking an appointment with one of our artists, you agree to the following:
DEPOSITS
Once you have chosen your artist and appointment date, we require a deposit to hold your spot. This deposit is to hold your appointment time, and will be applied and credited to your final tattoo session.

All deposits are non-refundable and non-transferable.  This means don't put it down if you aren't sure about getting tattooed because it will not be refunded back to you!
If you can no longer make your appointment, a minimum of 5 days notice (by email only) is required in order to reschedule and transfer your deposit once.

If you reschedule more than once, you lose your deposit and will be required to provide a new deposit to book in the future.
If you cancel your appointment or decide not to get tattooed, you lose your deposit.
If you do not show up for your appointment, you lose your deposit.
If you no-show and want to book another appointment, you lose your original deposit and you will have to put down a new deposit for your new appointment.
We require you reschedule if you:
Have symptoms of cold or flu.
Are in direct contact of a positive COVID case.
Please contact your artist ASAP if you are unwell (5 days notice or more is required, deposit rules apply at the discretion of your artist).
DAY OF APPOINTMENT
Arriving for your appointment:

We are by appointment (walk-ins when available!).

Your tattoo appointment will be you and your tattoo artist!  A friend or family member may drop you off, but they will not be permitted in during the procedure.  We'll take great care of you! 

Masks are optional.

We continue to social distance in the shop.
We are happy to wear a mask with you!  We recognize that there are different levels of comfort regarding masking and are happy to accommodate them.
We may ask you to wear a mask with us.

Food/Beverage:

Eat a good meal before coming to your appointment and bring a water-bottle.
You may bring a snack with you, we have a designated snack area.
You will be given a 15 minute grace period on the date of your appointment.  If you are later than 15 minutes with no email in advance, you lose your deposit AND your appointment time will be given to the next person on our waiting list.  Please note that if you are late with an email or phone call we may have to re-schedule your appointment (at your artists discretion).
If you show up without valid government issued photo ID you lose your deposit and you will not be tattooed.
If you show up under the influence of drugs, alcohol, coercion, dares, or bets (or if you're unprepared in other ways to have your body modification procedure done) you lose your deposit and you will not be tattooed.
If you show up and you are under the age of 18 (for all tattoos) you lose your deposit and you will not be tattooed.
If you are unable to maneuver stairs, no worries as we can arrange to setup downstairs!  Please let us know in advance.
No, you may not bring your children with you (or anyone else) to your appointment.  Please ensure you have arranged childcare for the date of your procedure!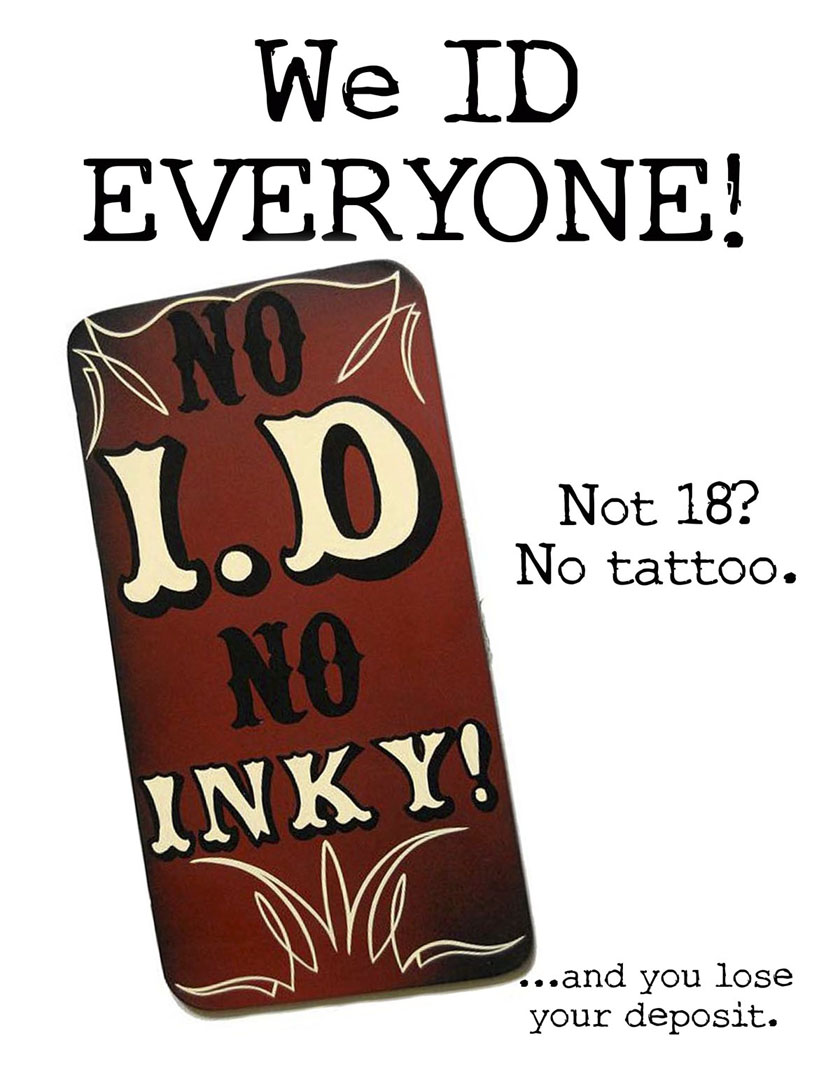 TATTOOS
Tattoo consultation:  We are a custom tattoo shop – depending on what you're wanting to have tattooed you will almost always require a consultation before booking your tattoo appointment.  We must pre-approve all artwork that is to be drawn and tattooed; if we feel it will not translate to skin or it will not wear well over time we will not tattoo it.  We stand by our artwork, so please understand if we say no to your exact idea.
Tattoo design (Can I see it before my appointment?!):  Due to high volume and an extremely busy working schedule we are unable to show you your artwork before your tattoo session.  As we are a custom shop, it's your homework to choose which artist portfolio suits your style preference and once you've consulted with them you should feel confident that you chose the right artist for the job before booking your tattoo appointment.  It's important when choosing an artist to tattoo you that you trust them!  They will have a piece you will like ready for you on the day of your appointment (where minimal changes can be made, unless previously discussed with your artist).  Your artist owns the right to the design and is not obligated to release it to you.
Changes to tattoo ideas:  Artists must be given notice (up to one week in advance depending on the size of the design).  Changing your tattoo idea can affect your deposit and/or your appointment booking (at the discretion of your artist).
Hourly rate and touch-ups: 

Our artists charge a rate of $190 per hour (plus taxes and plus a once-per-session set-up fee of $20).
Our minimum charge (up to 45 mins tattoo time) is $180 (all included).

Your artist can estimate the cost of a session for you, but we do not provide exact quotes as session times can vary for a number of reasons.  Please contact your tattoo artist directly.

Touch-ups:  We offer a touch-up once the tattoo is completely healed (if needed).  Touch-ups are to fine tune any minor issues during the healing process and if you are unsure if you need a touch-up or not, please email a photo or book an appointment to show your artist how it healed!

Touch-ups are not guaranteed if you did not follow the aftercare instructions, if it has been more than 6 months since your tattoo was completed, or if you decide you want portions of your tattoo changed.
Our hourly rate is waived for touch-up appointments but you must pay the $20 set-up fee.

We do not make appointment confirmation phone calls:   It is your responsibility to remember your appointment date/time.  You may email the shop or your tattoo artist anytime to reconfirm your appointment date if you forget.
Hands, faces, and fingers are generally not tattooed at Painted Lotus Studios due to the amount of touch-ups required (with a few exceptions- please inquire).
We do not tattoo anyone under the age of 18 (even with parental consent).  You must be 18 + with valid government issued photo ID to be tattooed at Painted Lotus Studios.  No exceptions.   
We do not want you to forfeit your deposit!  We would much rather tattoo you.  If you have any questions, or are worried about our guidelines, please email or give us a call!
Please read our frequently asked questions, and if you have any other questions, please feel free to give us a call at 250.590.1831 or email the shop!