DEPOSITS
Once you have chosen your artist and appointment date, we require a non-refundable deposit to hold your spot. This deposit is to hold your appointment time with your artist, and will be carried over to the day of your tattoo appointment.  It will be carried over each tattoo session and will be taken off the total cost of your final tattoo session.
All deposits are non-refundable and non-transferable.  This means don't put it down if you aren't sure about getting tattooed because it will not be refunded back to you!  Under no circumstance will you get your deposit back.
If you cannot make your appointment date you can re-book and transfer your deposit twice ONLY by giving us a minimum of 72 hours notice of your appointment time (by phone or in-person only).
If you reschedule with less than 72 hours notice of your appointment time (by phone or in-person only), or if you reschedule more than twice, you forfeit your deposit and will be required to provide a new deposit to book in the future.
If you cancel your appointment or decide not to get tattooed, you forfeit your deposit.
If you do not show up for your appointment, you forfeit your deposit.
If you no-show and want to book another appointment, you forfeit your original deposit and you will have to put down a new deposit for your new appointment.
DAY OF APPOINTMENT
Make sure you eat a good meal before arriving for your appointment 🙂
You will be given a 15 minute grace period on the date of your appointment.  If you are later than 15 minutes with no phone call in advance, you forfeit your deposit AND your appointment time will be given to the next person on our waiting list.  Please note that if you are late with a phone call we may have to re-schedule your appointment (at your artists discretion).
If you show up without valid government issued photo ID you forfeit your deposit and you will not be tattooed.
If you show up for your appointment under the influence of drugs, alcohol, coercion, dares, or bets (or if you're unprepared in other ways to have your body modification procedure done) you forfeit your deposit and you will not be tattooed.
If you show up for your appointment and you are under the age of 18 (for all tattoos) you forfeit your deposit and you will not be tattooed.
If you are unable to maneuver stairs, no worries as we can arrange to setup downstairs! Please let us know in advance.
No, you may not bring your children with you to your tattoo or piercing appointments.  Please ensure you have arranged childcare for the date of your procedure!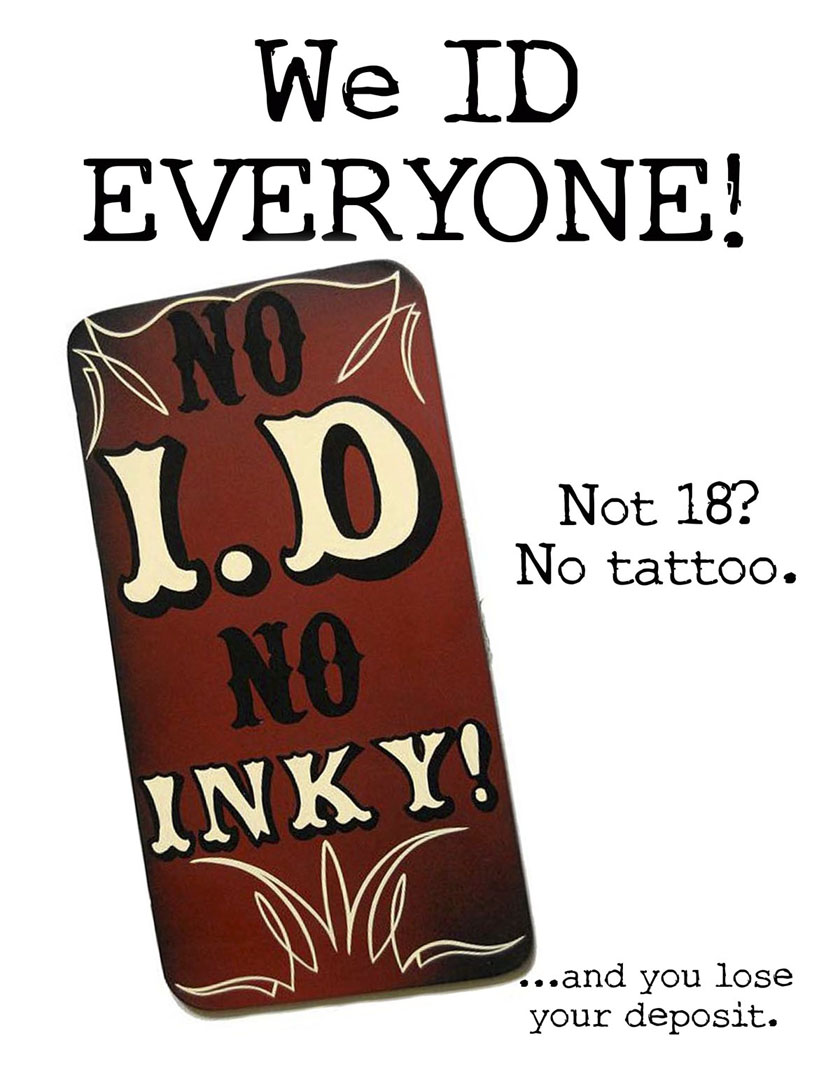 TATTOOS
Tattoo consultation:  We are a custom tattoo shop – depending on what you're wanting to have tattooed you will almost always require a consultation before booking your tattoo appointment.  We must pre-approve all artwork that is to be drawn and tattooed; if we feel it will not translate to skin or it will not wear well over time we will not tattoo it.  We stand by our artwork, so please understand if we say no to your exact idea.
Tattoo design (Can I see it before my appointment?!):  Due to high volume and an extremely busy working schedule we are unable to show you your artwork before your tattoo session.  As we are a custom shop, it's your homework to choose which artist portfolio suits your style preference and once you've consulted with them you should feel confident that you chose the right artist for the job before booking your tattoo appointment.  It's important when choosing an artist to tattoo you that you trust them!  They will have a piece you will like ready for you on the day of your appointment (where minimal changes can be made, unless previously discussed with your artist).  Your artist owns the right to the design and is not obligated to release it to you.
Changes to tattoo ideas:  Artists must be given notice (up to one week in advance depending on the size of the design).  Changing your tattoo idea can effect your deposit and/or your appointment booking (at the discretion of your artist).
Hourly rate and touch-ups:  Our artists charge a rate of $160 per hour (plus applicable taxes) and a once-per-session set-up fee of $20.  We can estimate the cost of a session for you, but we do not provide exact quotes as session times can vary for a number of reasons.  We offer a touch-up once the tattoo is completely healed (if needed).  Touch-ups are to fine tune any minor issues  during the healing process and if you are unsure if you need a touch-up or not, please stop in quick and show your artist how it healed!  Touch-ups are not guaranteed if you did not follow the aftercare instructions, if it has been more than 6 months since your tattoo was completed, or if you decide you want portions of your tattoo changed.  Our hourly rate is waived for touch-up appointments but you must pay the set-up fee.
We do not make appointment confirmation phone calls:   It is your responsibility to remember your appointment date/time.  You may call the shop anytime during business hours to reconfirm your appointment date if you forget and we are happy to re-issue you an appointment/deposit card if you have lost yours.
Hands, faces, and fingers are generally not tattooed at Painted Lotus Studios due to the amount of touch-ups required (with a few exceptions- please inquire).
We do not tattoo anyone under the age of 18 (even with parental consent).  You must be 18 + with valid government issued photo ID to be tattooed at Painted Lotus Studios.  No exceptions.   
We do not want you to forfeit your deposit!  We would much rather tattoo you.  If you have any questions, or are worried about our guidelines, please pop into the shop or give us a call!
How do I book an appointment at Painted Lotus Studios?
Please visit our "booking an appointment" page by clicking here.
What is your recommended aftercare routine?
Are tattoos safe?
Yes- if done properly by the right people.  Painted Lotus Studios goes beyond expectations and is dedicated to providing each and every client with a personalized experience in a clean and safe environment.  We practice the highest standards in Principles of Infection Control and Sterilization, with certification to prove it.
How can I tell if my tattoo or piercing is infected?
If you think your tattoo (or piercing) might be infected, don't sit around waiting for it to get worse! Signs of infection are pain, hot redness, swelling and/or a pus discharge (with or without the presence of blood), or a foul odor emanating from the area. Come see us if you have any questions at all!  We're here to help.
Can I use some kind of numbing cream?
Not only do numbing creams dull the pain for only 30 minutes or so, when the sensation returns it is a shock to the system and the discomfort felt from being tattooed becomes more painful. Without the cream it would have been annoying and possibly even a discomfort at best, whereas with the cream the returning sensation is ten-fold what would have been felt without the use! Numbing creams also cause unresponsive skin which can result in a shallow tattoo. Therefore, we don't recommend it and if you've applied it before your session, we won't tattoo you!
What if I have a pigment allergy?
If you have any preexisting pigment allergies, or have had pigment-related food allergies in the past, please consult your physician and artist before getting your tattoo.  If you're in doubt, always speak with your physician first.  These conditions are extremely rare but MUST be addressed before the tattoo process starts.
Is it true you can't have an epidural if you have a lower back tattoo?
Some people believe that pigment (especially older ink) can contain materials that would infect or cause damage to the inside of the spine (which will be injected with a small bit of tattooed skin when administering the drugs). Some people also believe that it is too risky to do the procedure if they cannot properly find the lumbar because of ink obscuration. All in all though, this is generally considered an urban legend.
Can I donate blood if I have a tattoo?
Depending on the location you're in, some clinics will make you wait 6 months to a year after having a tattoo or piercing done. This is to allow any possible blood borne pathogens that you can get (from unclean tattoo shops- do your research!) to incubate enough that they are visible on blood tests.  Call your local donation clinic to ask about their policy.
Does a tattoo restrict physical activity?
It shouldn't. Some people find the tattoo is a little sore for a few days afterwards which may cause some restrictions but other than that you should be perfectly normal. Be aware that rubbing clothes from physical activity can damage the tattoo while it's healing.
Why is my tattoo peeling and flaking off?
Peeling and flaking of a new tattoo is perfectly normal. Before it actually begins to peel, the tattoo will look like it's covered with a whitish, cracking film. Then you'll see white or translucent flakes of old, dead skin start to peel off and some of the flakes may even contain some ink. Do not pick or scratch!
Can a mole be tattooed over?
Although moles are usually benign and we go through life ignoring them, there is always the possibility that a mole could serve as an indicator of cancer. This makes the preservation of a mole important. One of the ways a mole can indicate a problem is by changing color. If it has been tattooed over with pigment, it may hinder your ability to spot any color differences. For your safety, it is best that a mole not be tattooed over.
Can I still get a tattoo if I'm sick?
You're going to need your strength and your white blood cells to heal your tattoo- something your body won't be able to do if it's already doing battle against virus and bacteria. Not to mention the fact that it's very inconsiderate to bring your illness into the tattoo studio and risk passing the germs onto others, particularly your artist. If you have an appointment, call and reschedule for when you're feeling well again.
Can I still get a tattoo if I'm pregnant or breastfeeding?
You must wait until you are 100% finished

breastfeeding

before getting a tattoo at our studio.  You are busy making and giving a new person their start on life!  If you were to get an infection it can compromise your breast milk (and possibly cause other complications) therefore it is our policy that we do not tattoo anyone who is currently pregnant or

breastfeeding

.  No tattoo is worth the risk of your child's health.
If you have any other questions, please feel free to give us a call at 250.590.1831 or pop by the shop!