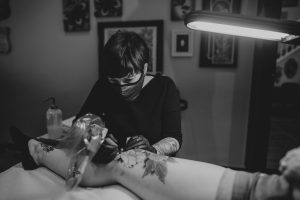 Gwendolyn's books are closed.
If you're a current client (you have a booked appointment or an unfinished piece), please contact Gwen directly.

Don't miss a flash drop or a last-minute opening, sign up to her mailing list for booking information!   Updates on flash, schedule openings, events and merch sales will be sent via her email list!
Any info will be delivered to her email list first (and then to social media afterwards if still available).
To keep updated:  Sign up for Gwen's mailing list and check your spam folder to make sure the welcome email didn't end up there – you will not miss Gwen's flash/merch/event/booking info if you sign up 🙂
Link: https://eepurl.com/ihf0Bj