[12.18.13]
Holiday update for you all:
We will be CLOSED Sunday, December 22nd – Thursday, December 26th. Open again on Friday, December 27th!
NO PIERCING December 22nd – January 1st. J.P will be back on the 2nd!
Happy Holidays everyone!
[12.12.13]
Gift Certificate SALE!!!
Starting TODAY until December 31st, buy a Painted Lotus gift certificate for any amount and we will ADD an extra 10% to it!
Great for presents, stocking stuffers, or a little extra for yourself 🙂
[12.06.13]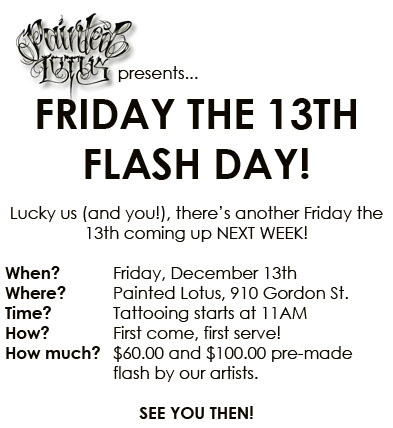 [12.05.13]
NO PIERCING Friday, Dec 6th – Wednesday, Dec 11th
JP will be back Thursday, Dec 12th.  Call the shop to book your piercing appointment!
[12.04.13]
What an overwhelming response to yesterday's post!!!  We have sold through the entire $140 for $100 deal!
THANK YOU to everyone who helped us raise our goal (and more) to help our dear friend Dustin's family with the cost of the celebration of his life. 
We will be contributing the money alongside many other tattooers/body piercers and shop owners in the industry who are working selflessly to help with this cause. 
Thanks so much again!
[12.03.13]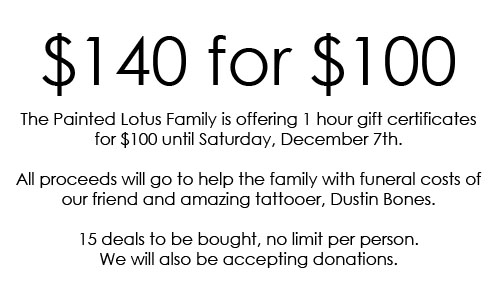 [11.30.13]
Sorry everyone, NO PIERCING today.  We're here tattooing if you want to come say hi!
Please check back or call to see if J.P. will be available for piercing on Tuesday.
[11.23.13]
It's that time of year again!
What a better gift than an art print, t-shirt, or gift certificate (for tattoo or piercing) from Painted Lotus?  😀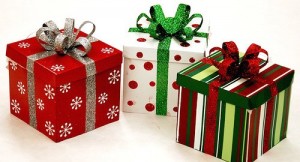 Come by the shop to check out what we have!