****
[03.01.18]
Don't forget to check out our GUEST ARTIST page to see who we have visiting at the shop!  🙂
[02.09.18]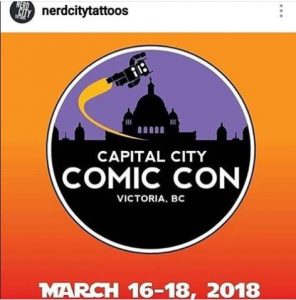 MARCH 16 – 18!!! Many flash offerings will be at the Capital City Comic Con for you!
Follow the collective on instagram: @nerdcitytattoos (and don't forget to pick up your comic con tickets so you can come check it out – on sale now!).
[01.20.18]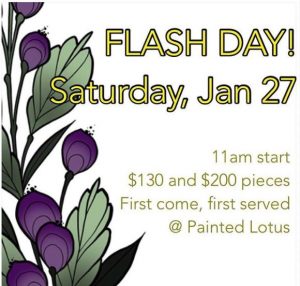 ….you've waited so patiently!!! We wanted a way to say THANK YOU to all of our awesome clients, so for those of you who have been waiting to get in – here's your FLASH DAY!!!! ❤❤❤
Sat, Jan 27 @ Painted Lotus – doors open @ 11am! First come, first served / cash only: $130 and $200 pieces / 18+ with valid government issued photo ID
See you then!!!
PREVIEWS may pop up on our artists' Instagram accounts… Otherwise come to the shop on the 27th to check it out!
[01.01.18]
Happy New Year!!!
Archive: [2017 news] [2016 news]  [2015 news]  [2014 news]  [2013 news]